Live for what you love
Pure energy for body and soul
in magic Fuerteventura
find out more
Yoga Holiday
FROM 10 to 17 September 2022
1 - 6 NOVEMBER 2022

Yoga Nidra and Somatic
TRAINING COURSE 40 HOUR

FIND OUT MORE
FROM 29th APRIL TO 6th MAY 2023
Yin Yoga
TRAINING COURSE 60 HOUR
3rd EDITION
FIND OUT MORE
Yoga Courses and Classes
Welcome to Kamla Yoga, the holistic center where yoga is taught with respect for the uniqueness of each individual. Our classes will be the authentic way for the care of psychophysical balance and the exploration of the Self. Our members will have the opportunity to vary and practice yoga from different perspectives through Hatha, Vinyasa, Yin and Nidra Yoga.
Choose the style and path that works best for you! Kamla Yoga will be a daily guide for both first-time yoga beginners and those who wish to deepen their practice.
Learn yoga right from home and in complete relaxation. Find the quietest part of your home, make sure you have a good connection and create your own Yoga corner. Classes are open to everyone, from beginners to experts: it will be up to the teacher to make the positions accessible according to the physical characteristics of each individual.
Find out
Kamla Yoga organizes retreats in Sicily, designed to bring its participants positive energy, well-being and relaxation. The days will begin and end with yoga classes and will alternate the different styles in order to better reactivate the natural energy flow and calm the nervous system. The best vacation to take care of yourself!
Find out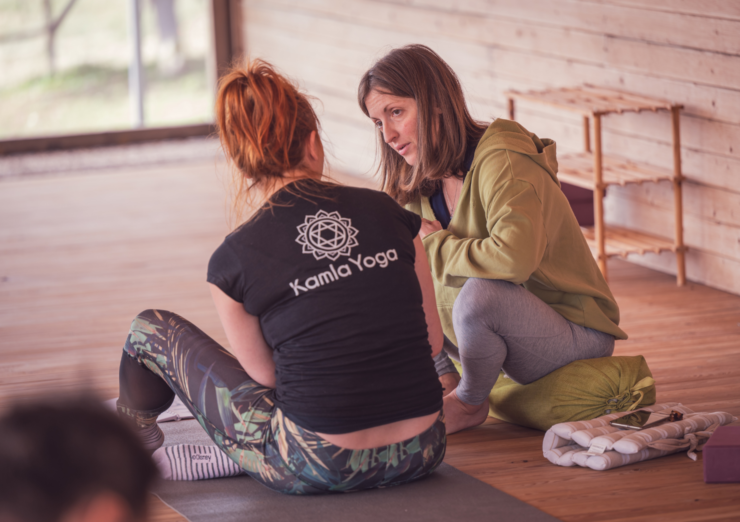 Deepen your theoretical and practical knowledge with one of our certified teacher training. Programs are created for passionate practitioners whot want to make their passion a profession. Courses are taught in welcoming locations surrounded by nature to ensure you are more in touch with yourself on this path of individual trasformation.
Find out
About Us
Kamla means lotus. I chose this name not only for its spiritual symbolism but also for my happy place in Rishikesh. An Indian woman used to call me like that. I discovered yoga in London a long time ago and completed most of my yoga studies in India, where I lived for four years.
Today I have more than 600 hours of education certified by Yoga Alliance. I trained in different styles of yoga and meditative techniques. Yoga has revolutioned my life, and there is nothing I teach that I have not experienced on my skin before.
For this reason, I believe in the healing power of yoga and its ability to empower human beings. Anyone who walks the path of yoga is taking steps towards the best version of themself. My vision is to share yoga with the highest number of people possible with professionalism, compassion, and an open heart.
I especially love to conduct training and retreats and lead groups of beautiful souls towards transformative experiences both personally and professionally. I specialized in Hatha, Vinyasa, Yin, and Nidra Yoga.