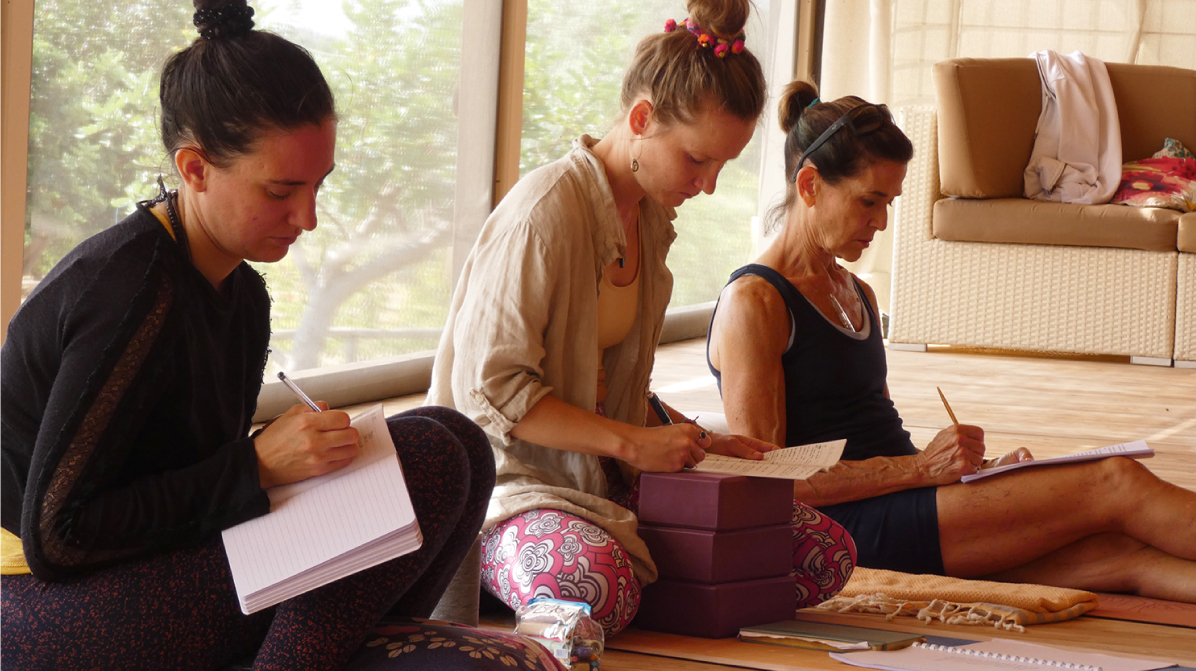 60 hours of yin yoga teacher training course 3rd edition
This training program is intended to provide both a clear and comprehensive illustration of the fundamental principles of Yin Yoga and a concrete experience of what authentic Yin practice is. At the conclusion of the course the student will be able to lead a complete Yin class. The course is open to both teachers and yoga practitioners. Yin Yoga is a complementary and synergistic practice to the more dynamic forms of yoga.
It is commonly referred to as a passive practice as opposed to all other styles of yoga that are considered active (Hatha, Ashtanga Vinyasa, Power, etc.). This definition stems from the specific way of exercising the body without the engagement of muscles but instead using the weight of the body and the force of gravity to passively stimulate specific tissues and components of the body. These tissues are typically the joints, ligaments, fascia, and bones. The positions are performed on the floor for an extended period of time (initially 2 to 5 minutes).
This allows you to apply some pressure to specific target areas and thus consciously stress the tissues mentioned above. The benefits of practicing yin yoga, both physically and mentally, are numerous and profound. One of the main reasons the positions are held for long periods of time is to improve the flow of chi – life energy – through the entire body. According to Chinese meridian theory, the activation of chi will nourish and restore the internal organs and tissues involved in each position performed during practice. Yin practice also allows for deep work on the myofascial complex.
When we touch the fascia during yogic practice, many contractions, blockages, and emotions can finally be released. Therefore, the nervous system will also be detoxified. The mind also benefits immensely from this practice. The slow pace of Yin yoga gradually brings a mindful and fearless practitioner into a meditative state of mind. This is an exceptional time for exploration, observation, realization, and ultimately, transformation of the Self.
It is the time when we encounter physical discomfort, pain, thoughts and emotions. The beauty and magic of yin yoga is in allowing us to move beyond these obstacles and feel more grounded, calm and peaceful at the end of the practice. Yin yoga is an elevated practice that anyone can experience and explore with appropriate guidance. The course will be hosted at Case Don Ignatius which is located in the Syracuse area, one of the most beautiful areas of Eastern Sicily. A few kilometers away are the jewels of Sicilian Baroque, already Unesco heritage, made famous by the successful television series of Inspector Montalbano: Scicli, Modica, Ragusa Ibla, Ispica. For lovers of nature trails, in addition to the beautiful coast of Ragusa dotted with pretty villages, there are in particular the beautiful reserve of Vendicari and, a little further away, the lakes of Cavagrande.
The Resort is surrounded by greenery, surrounded by large floral gardens, aromatic plants and olive groves. You will be surrounded only by the sounds and aromas of nature and this environment will immediately give you peace and silence. The practice of Yoga and meditation will take place inside the Resort in an independent room that overlooks the garden. The morning practice will be dynamic to bring energy and vigor, while in the evening we will use softer and more restorative practices. This alternation will help rebalance the physiological rhythm of body and mind.

Course Content:
History of modern Yin Yoga.

The notion of Yin and Yang.

Differences and complementarities of Yin and Yang.

Elements of Chinese meridian theory.

Elements of chakra theory

How to restore energy and balance in the body through yin practice

How to work on meridian pairs through practice

Physical and mental benefits of Yin Yoga

Meditation and self-enquiry

20 main postures, variations and use of tools

Anatomy for Yin Yoga and fascia
Program:
7:00 Yang Practice (90 minutes)

9:00 Breakfast

10:30 Theory of Yin Yoga

13:00 Lunch

14:00 Individual study

3:30 Meditation

16:00 Theory of Yin Yoga

17:30 Yin Practice (90 minutes)

19:30 Dinner
The total cost of the course is 1570 euros. This amount includes: 7 nights in double room plus three vegetarian meals per day Certificate 60 hours Yin Yoga recognized by Yoga Alliance USA *Check-in 23 April at 12:00/ Check out 30 April at 12:00 ** Transfer from Comiso airport 30 euro/ Transfer from Catania airport 100 euro (extra cost).
Please, contact me directly me for further information and bookings at info@kamlayoga.com.